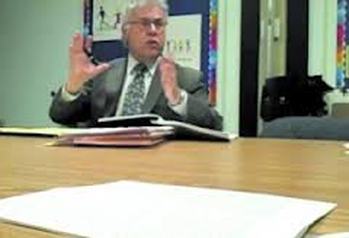 The First Amendment & the Last Laugh
ROUND #1
2006
:My husband and I apply for a religious waiver to immunizations for our kids. We write our letter & fill out our application. Super-ego Superintendent says the school has questions about our religious views and a 'right to ask them', says he. Sounds odd, think I.
Off we go. The school's attorney, David Cohen- a twisted mix of Templeton the Rat (neck up) and the Pillsbury Doughboy- (double-chin down) flips on the recorder.
"What kinds of vitamins do you give your kids?" "Why organic broccoli?" "Do you give your kids antibiotics?"
You get the picture.
After two hours sickly reminiscent of the Spanish Inquisition, the school turns us down. After all, Doughboy Dave has none of the redeeming qualities of Templeton.
BUT WHY??
Board President Jim March said we 'subjected our son to an intrusive blood test' (Titers) So how could we think vaccines are bad? After all, a blood test and a vaccine are the same thing, riiiight? He also accused us of forging a vaccine record.
The denial letter was insane.
So a Board of Ed judged our religious views. We flunked. But did they and did we?
Years later, I learn Supe Annunziato wanted to quiet me down (I object often) and the attorney gets to charge more $ when a parent challenges a bad decision. (Guess Dave ran out ambulances to chase). So ego and greed steamroll all over my religious freedom and the power to raise my kids as I see fit.
Got it.
WHAT TO DO NOW?
I appeal to the Commissioner of Education. He upholds the denial with another crazy letter. Still convinced the system will eventually work, I go to Supreme Court. I spend the first 15 minutes explaining exemption laws to the judge. He was not familiar with them. Silly me, I thought judges knew law.
He dismisses the case as moot, though another son is due for another shot in two months.
It can't be moot, say I.
So what? I am out of time, energy and hope that the system works. Maybe courtrooms are not the best place for justice, think I.
Time for something a little less conventional.
2008
: Another letter, application and 'truth-test.' More questions, same bottom-feeder. But this time, my itsy-bitsy Flipvideo comes along. Ahhh, technology.
Click here for a chill.
This time, it's all about God- and how my beliefs don't make sense. (Guess Dave was absent the day they taught the First Amendment in law school.)
We were treated worse than criminals.
The way this interview made me feel cannot be described, so I won't try. Watch the clips. You'll feel it too.
We youtube the video. 50,000 hits and lots o' funny comments follow. I feel better. Dave-boy complains to youtube. We remove the video. The school fires Dave. I feel much, much better. .
My school turns us down- again. So, I hand in a doctor's note saying my son will be harmed by the shot. But a school board can trump a doctor's note. Amazing, right? Last I heard, (2009), they were still 'considering' it.
Did Dave-boy know he was to be a you tube star? He had no idea the cute little camera was only three feet from his squishy self.
Read one
of dozens of stories about Dave's power trip over Mom and Dad.
We broke no laws by taping our time with Dave- even if he did not know. I also break no laws expressing my views. Opinion is a tenant of the First Amendment, though other personal freedoms appear to be on life support in NY.
IT'S REAL???
"Wait a minute! This can't be legal!" you say. Is this America, or Alice in Wonderland, where black is white, up is down and the Mad Hatter is running around judging the sincerity of my soul? Guess again. It's legal. Why? Because it's not
illegal.
But we can change that.
We need to stop these real-life witch hunts and reclaim a right that should never be in question- the simple joy of raising our kids. My nightmare could well be yours.
These days I tell my crazy story to our lawmakers and ask them to support choice. That means no 'truth-test', no sleepless nights and no David Cohen. I also help other parents through the process. I have some incredible stories, but Dave's a real gem.
Help change the law so your story has a happy ending-
YOUR ENDING. IT"S UP TO US.
---